Covered California offers two types of dental plans: HMO and PPO. The dental plans can be purchased through your Covered California account, but receive no subsidy to reduce the monthly premium. All health plans include pediatric dental vision benefits embedded within the insurance. Covered California has set the dental plan benefits for both the HMO and PPO plans. However, there can be minor variations between carriers.
HMO Dental Plans California
HMO dental plans are also known as copay dental plans. Some dental services will have no member copayment such as office visits, cleanings, and exams. Other services will have a set copayment so you will always know the cost of the procedure. For example, to fill cavity in a tooth can be $25 and a crown approximately $300. There is no deductible amount and no annual maximum benefit restriction.
The HMO dental plans have lower monthly premiums. They are offered by several carriers, but may not be available in all parts of California. With an HMO dental plan, you must select a primary dentist who is usually associated a dental clinic. The primary dentist will refer you to a specialist for certain services they cannot perform at their office.
In some parts of California, there may be very few HMO dentists or may not be accepting new patients. This may necessitate a longer drive to obtain services. HMO dental plans can be a very good value for adults needing the basic dental services such as regular cleanings, exams, and the occasional cavity filled.
Covered California dental HMO plans are offered by Anthem Blue Cross, Blue Shield, California Dental Network, Delta Dental, Dental Health Services, and Liberty Dental. Monthly premiums will range from $7.50 to $15.00 per person. Covered California PPO dental plans are offered by Anthem Blue Cross, Blue Shield, and Delta Dental. PPO dental plans through Covered California will have monthly premiums between $44.00 to $60.00 per person.
PPO Dental Plans California
PPO dental plans will cover some services at $0 such as cleanings, x-rays, and exams. For minor and major restorative services there is usually a deductible of $50. The annual adult maximum benefit for the PPO plans is $1,500. After any applicable deductible, the PPO plans will cover 80 percent of minor restorative procedures (fillings) and 50 percent of major work such as crowns and extractions. There is also a 6-month waiting period before the PPO dental plan will share in the cost of any minor or major restorative services.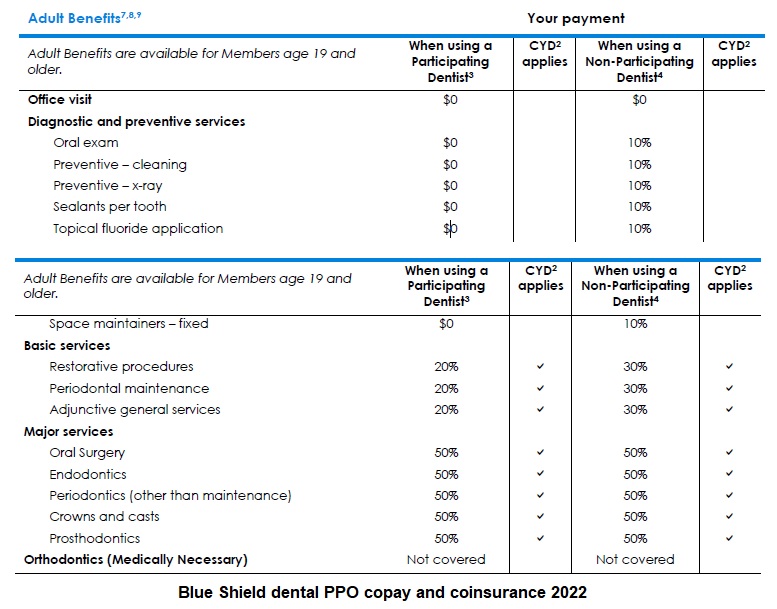 PPO dental plans are more widely accepted than HMO plans. PPO plans will also reimburse you if you receive services from an out-of-network dentist. You will always minimize your out-of-pocket costs if you use an in-network dentist. PPO plans have higher monthly premiums because of the larger network of dentists and the out-of-network coverage provided. None of the dental plans will cover implants, tooth whitening, or adult orthodontics.
The first filter for any dental plan is your current or preferred dentist. Call the dentist office to see what dental insurance plans they accept. You can also visit the carrier's website and search of in-network dentists in your local area. If you don't plan to have the Covered California dental plan for an extended period of time, more than a couple of years, you may be better served enrolling in a dental plan directly with an insurance company.
When you enroll in a dental plan outside of Covered California, it is not tied to your Covered California on-exchange enrollment and is portable. The monthly premiums can be a little less with off-exchange plans, with fewer limitations, and higher annual maximum benefit amounts.
---