I didn't want the clock. I was at the house to pick up a real antique French wall clock for a friend who could not make the trip. As soon as I heard the Seth Thomas No. 2 wall clock was a replica of the historic original, I dropped it off of my list of clocks to pursue. Then I saw the clock and realized I was being a history snob for dismissing it.
Seth Thomas No. 2 Regulator Is A Historical Clock
The Seth Thomas No. 2 began production in the mid-1870s and went through to the late 1940s. It is a simple 8-day time only clock with a big dial that can been seen across a room. This made it ideal for public spaces such as railroad stations, banks, and schools. The original No. 2 had a dead-beat escapement, maintaining power, and a moderate length pendulum, approximately 22 inches. In other words, it was an accurate time keeper. (It is the maintaining power that helps create a true regulator clock. Force is applied – maintained – while the clock is be wound.)
The No. 2 also had a well proportioned and simple design. It was free of ornate scroll work, finials, or side columns that might be found on a clock bought to make a statement in an office or home. At between 34 and 36 inches in length (sizes varied over the years), the No. 2 could fit on most walls and was not too diminutive or overly large and grandiose. The 12-inch dial with the sweep second hand was effective at displaying the time with just a quick glance.
Many Seth Thomas clocks are highly prized and collectible even in the year 2020 when interest in antique clocks has waned. Original No. 2s in good condition maintain a solid and relatively high asking price. It is not unusual to find an original No. 2 with a minimum bid of $1,000. This kind of price is above my pay grade.
In 1931, the Seth Thomas Clock Company became a division of General Time Instruments Corporation. General Time was eventually acquired by Talley Industries in 1970. In 1976, perhaps in association with the bicentennial of the United States, the No. 2 was reissued. There were 4,000 No. 2 regulators made with a replica of the Seth Thomas number 61 weight driven movement that would have most likely been found in the No. 2 in 1876.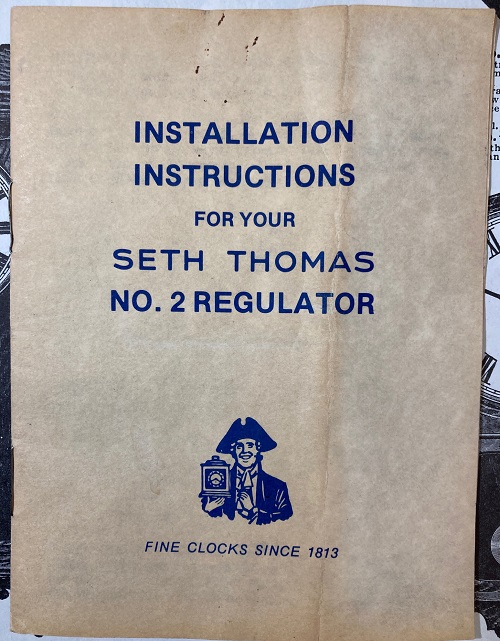 Clocks, Maps, and History
I like history. I study, research, and write about history. I like to own parts of history when I can afford them. Can a clock, that is not an antique, still be historic? If a clock is not an original, can it still be historical?
Along with clocks, I also collect maps. Some of the maps I have are reprints from scans of the originals. The map represents history, but the scanned paper map I have is not historical. I have an original map from 1848 that is both historic and historical. It outlines the gold mines along the South Fork of the American; it is part of the history of the 1849 Gold Rush. It is historical because it was printed in 1848 for President Polk's address to Congress about the gold discovery in California.
I like all my maps, even if they are not historical, they are about history. Why, I thought to myself, could I not like a replica clock? The reissue of the No. 2 is a mechanical clock with a brass movement, weight, and pendulum. Even in 1976, weight driven wall clocks were essentially no longer made, they were history.
A couple of years ago I purchased a Vienna regulator at an estate sale. I didn't know who made it. I did know it was old and original from the condition of the veneer. I bought it because I liked the design, proportions, and because it was a weight driven clock. Is this Seth Thomas No. 2 much different from the Vienna regulator? Not to my eye.
This reissue of the No. 2 will never be as valuable as an original. The clock movement is not as finished as the original Seth Thomas clocks of the 1800s. For instance, the new number 61 movement does not have lantern pinions; it uses a one-piece pinion arbor. The oak wood is nice, but nothing like an original clock case in mahogany. It does perform all the functions of the original, which is to keep accurate time while being easily read from a distance.
What is the difference between a reissue, replica, or copy? The Seth Thomas No. 2 went through various iterations over the years with different wood and movements. It looked essentially the same on the outside and kept great time on the inside. If it looks like a clock, sounds like a clock, and works like a mechanical clock: it must be a clock, just without the provenance of having been made by a company managed by either Seth Thomas or his son. One could argue that because it was made under the label of Seth Thomas, albeit a division of Talley Industries, this reissue/replica is an original Seth Thomas No. 2.
Regardless of the semantics, most importantly to me, and an aspect that I cannot discount, is that it is a mechanical, weight driven, time keeper. On top of that, it is a very quiet time keeper. I like to look at it, watch the pendulum make its graceful swings back and forth, and try to listen for the tic-tock of the escapement. Its not a historical time piece – at least not until long after I am dead – but it is a nice addition to the collection.
---