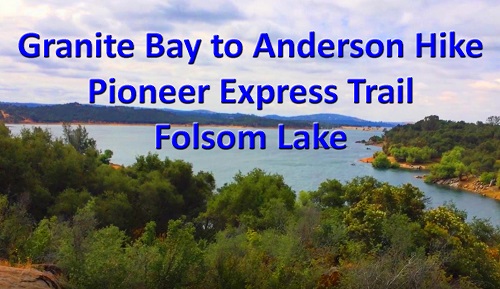 You do not have to travel far from Sacramento to find a moderately rugged day hike. On several occasions I have made the hike along the Pioneer Express Trail at the Folsom State Recreation Area, Folsom Lake, from the Granite Bay entrance up to Anderson Island. It is about 13 miles round trip and takes me between 5 and 6 hours to complete.
The Pioneer Express Trail was constructed around the time Folsom Dam was being built. The trail will always be above the high-water level of Folsom Lake so it can be used even in the spring when the lake can fill to capacity. It is the only trail with mile markers on it out at the lake.
Good Hike Around Folsom Lake
The first third of the hike is along relatively level ground until you reach Beeks Bight. Then you climb up the hillside that overlooks Folsom Lake. This portion can have some steep climbs for short distances. While the trail can wind far away from the lake at times, there are usually spots every half-mile or so to venture down to the water.
I put this video together on June 13, 2020. The lake was not quite full. When the water level drops, I do like hike along the water's edge. But when the lake is near capacity, granite outcroppings make hiking along the water impossible. I hiked up to a point across from Anderson Island; so named because when the lake is full, water surrounds this granite mound. You can get down to the waters edge across from Anderson Island at points from mile markers 40.5 up to 42.
Because the trail is predominantly south facing, it can get rather warm, even in the winter. The trail can get congested with fellow hikers, long distance runners, and horses. However, I have hiked along it for hours and never encountered anyone. The most annoying aspect of the trail are the mountain bike riders. This part of the Pioneer Express Trail is for hikers, runners, and horses only. Unfortunately, I do encounter bikers on the flat portions below Beeks Bight. Once you get onto the hillside, it is too steep and rugged for a bike to really be useable.
You will come across some very nice vistas of Folsom Lake. In the winter and spring, you will have to across some muddy little ribbons of water in the ravines, but nothing extreme. This is a hiker's hike, where you just want to go out and hike. The video will give you an idea of the terrain and views.
---