When you retire and separate from your employer sponsored health plan, you are faced with what seems like a bewildering landscape of health insurance options. For individuals and families, there are several health insurance paths available to you.
Retiree Health Plans
Some organizations may offer retiree health plans if the former employee has met certain conditions for length of employment. The retiree health plan offer needs to be carefully considered. The insurance premiums may be subsidized by the employer making the coverage affordable. The health plan may also have all the doctors and providers you want to visit for health care services. In addition, if you decline the coverage, you may not be able to enroll into it in a future date.
COBRA
Some employees are offered a COBRA plan when they leave employment. Some organizations will make a contribution to the health plan premium reducing the costs. If there is no employer contribution, COBRA coverage can be very expensive because you must pay the full premium amount of the health insurance.
Typically, employer health plans, and the ensuing COBRA coverage, have a large network of doctors and hospitals that may be hard to find in other health plans. In addition, if you or a family member has met any medical deductible, or even the maximum out-of-pocket amount, it may be less expensive to keep the COBRA coverage even with the high premiums. This is because when you start a new private health plan, the deductible and annual maximum out-of-pocket amount reset to $0. What you have paid under the old health plan does not rollover or accumulate to a new enrollment.
You then have to meet a new deductible and potentially incur higher copays and coinsurance. If someone is undergoing treatment for a medical condition, this could be unexpected extra costs. Consequently, there are good financial reasons for continuing with COBRA under certain conditions.
Medicare
If you are eligible for Medicare Parts A and B, you can activate Medicare for your health insurance. Medicare is not always less expensive than an employer plan. At a minimum, you will have to pay the Part B premium ($164.90 per month for 2023) and enroll in Part D prescription drug coverage. If you want additional coverage for the health care costs Medicare doesn't cover (Part B outpatient 20% coinsurance) you may want to consider adding a Medicare Supplement or enrolling in a Medicare Advantage plan.
A Medicare Supplement plan can run from $75 to $200 per month. Medicare Advantage plans, that include prescription drug coverage, can range from $0 to $100 per month. Medicare is just for individuals; it doesn't cover spouses and dependents. If you opt for Medicare and have a spouse or dependents, you will need to find them other health insurance coverage.
Individual and Family Plans
If you are not Medicare eligible or you need a spouse and dependents covered outside of your Medicare coverage, there are individual and family plans. With the qualifying life event of the loss of employer coverage, you will have a 60 window (Special Enrollment Period) to enroll in any individual and family health plan offered in your region. Pre-existing conditions will not be considered. If you apply directly with the health insurance company or health plan, you will need to supply proof of the qualifying life event for the Special Enrollment Period. Usually a letter, dated within the last 60 days, showing the last day of employer coverage will suffice.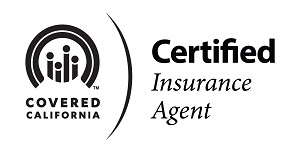 Another path for individual and family plans is through Healthcare.gov or a state-based marketplace exchange like Covered California. The health plans offered through the insurance companies are also offered through Covered California, with a few exceptions. The main benefit to Covered California is potentially becoming eligible to receive subsidies to lower the monthly premiums of the health insurance.
Medicaid
You, your spouse, or dependents may be eligible for Medicaid, Medi-Cal in California. In California the expanded Medicaid, known as MAGI Medi-Cal, will have no monthly premiums. Health care services and prescription medications are generally no cost. The downside is the narrow network of providers in the Medi-Cal HMO plans. It is possible the adult household members may have a private health insurance plan, with subsidies through Covered California, and dependents, under 19 years of age, are enrolled in Medi-Cal.
If you don't want your spouse or dependents in Medi-Cal because you are not eligible for the subsidized private health plans, you can enroll them directly with a health plan from the insurance company. There will be no subsidies to lower the premiums, which may be an expensive proposition.
Health insurance is absurdly expensive. When you retire, there is strong impetus to conserve money. Consequently, you will be looking at health insurance options that minimize monthly costs. Fortunately, there are a variety of combinations of health insurance options to reduce the monthly premiums.
For example, you may be enrolled in Medicare with a Medicare Advantage plan with a low monthly premium. Your spouse may have Covered California health plan with subsidies to reduce the monthly premiums. Finally, your dependents could be eligible for Medi-Cal at no cost.
What is important to remember is that once you separate from your company and lose the health insurance, you generally only have a 60-day window to make health plan enrollment decisions for the remainder of the year. During the Open Enrollment (November – January) period for the individual and family plans, you can reconfigure health plan enrollments.
---