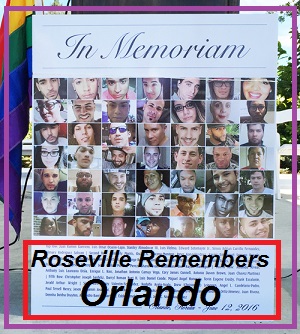 On a warm, but breezy, Saturday afternoon, a memorial for the victims of the Orlando, Florida, Pulse nightclub shooting was held in downtown Roseville. Organized by local resident David Larson, speakers included elected officials and representative of several religious faiths.
Roseville Stands With Orlando Memorial
The recent gun violence that killed black men in Minnesota, Baton Rouge, and peace officers in Dallas also garnered mentioned by the numerous speakers at the memorial. However, the main theme of the speeches was the importance of getting to know your neighbor and realizing that regardless of their religion or sexual orientation, we are all human beings, children of God. During a brief interlude between speakers, David Larson encouraged all of the attendees to meet and greet at least three people they did not know at the memorial.
The City of Roseville, located in southern Placer County, is known more as an affluent suburban bedroom community to Sacramento. It is not a hotbed populace protest. But the tidy neighborhoods surrounding historic downtown Roseville are also home to many people who either are of the LGBTQ community or support their human and civil rights.
Elected officials and faith leaders support gay rights
Similar to the trend of large big box stores in the Roseville area, most of the new religious worship centers also seem to be the large conservative evangelical mega-churches. But on this afternoon, it was the religious leaders of smaller faith communities that took center stage to offer spiritual succor and comfort, along with, a way forward in the aftermath of the Orlando Pulse nightclub mass shooting.
A subdued crowd gathered at a downtown Roseville grass square for the organized memorial. This was probably as close to an interfaith service that Roseville would see for LGBTQ victims of the Orlando shooting. But the message from the faith leaders was unmistakably clear; we do not hate in Roseville, we respect one another, and we can create a more tolerant society.
Father Cliff Haggenjos of St. John's Episcopal Church denounced the hurtful and hateful comments Roger Jimenez, leader of the Verity Baptist Church. (I have decided not to preface Jimenez's name with the title Pastor as it is unclear if Jimenez graduated from any theological seminary or has been ordained. In addition to which, as Fr. Haggenjos stated, no Christian would ever make such ugly comments as he did, therefore, he can't truly be a pastoral leader of any Christian denomination.) Fr. Haggenjos also shared how his family had recently experienced the inexplicable loss of a family member. This gave him a unique perspective to the incredible and unbearable loss for the family and friends of the young men and women in Orlando.
Rabbi Conforti wrapped her comments round the theme of the calendar. She noted how terrified people were of gay men who were dying of an unknown disease with no cure in the 1980's. Thirty years later, 49 members of the LGBTQ community died from a very well-known instrument of death called a gun. This horrible act of violence rippled across America as Rabbi Conforti noted how her daughters wondered if they would be safe attending San Francisco's Gay Pride celebration in July.
Priest Jujhar Singh of the Gurdwara Sahib Temple in Roseville talked about the importance of community and sharing of knowledge. Supported by members of his faith community in attendance at the memorial, he encouraged everyone to learn more about their neighbor's religious faith.
Imam Kamran Islam mentioned how he thought the recent death of a beloved Muslim American, Muhamad Ali, would show America that there were good Muslims living in the United States. Then the Orlando nightclub mass shooting was perpetrated by a man who identified as a Muslim. As Imam Islam noted, the Orlando shooter was facing numerous mental health challenges and it is hard to know how much of his Muslim faith actually factored into the shooting.
The religious leaders who spoke at the Roseville memorial for the Orlando shooting victims do not want to see tribal characteristics among religions or political affiliations blossom. It is tribal and sect loyalties that have created so much violence in Africa and the Middle East. But for the United States to veer from the path of this increased polarization being witnessed, we need interfaith dialog along with political temperance. We also need more suburban gatherings like the one organized by David Larson to bring people in the community together. It is important that people who support tolerance and civil rights for all residents become more visible in our community.
Video and pictures from Roseville Stands With Orlando Memorial
---