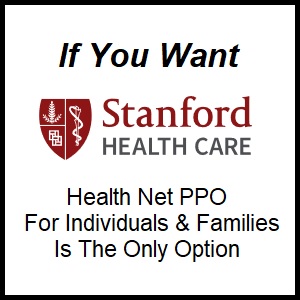 Many people love Stanford hospital and the Stanford Health Care medical group of doctors. Unfortunately, if you get your health insurance through an individual and family plan, your options to access care at Stanford are limited. Some Covered California plans may include Stanford affiliated doctors, but not the hospital. The only individual and family plan that has both the doctors and the Stanford hospital in-network is the Health Net PPO plan for 2019.
The services of the Stanford hospital and Stanford Health Care doctors is in high demand. Consequently, they are most likely to command higher reimbursement rates from health insurance plans. There are no Covered California health plans that include both Stanford doctors and hospital as in-network. However, Stanford Health Care will accept referrals from some of the Covered California health plans.
Stanford Health Care & Health Net PPO
Stanford Health Care has tried to provide as much information as possible regarding how they interact with other insurance in California for individual and family plans. ( https://stanfordhealthcare.org/for-patients-visitors/health-insurance-plans/covered-ca.html )
Valley Health Plan HMO, Santa Clara County
Stanford Health Care is in-network for hospital and specialist physician services only. You would not be able to select a Stanford Health Care physician as your primary care physician.

In order to be seen at Stanford Health Care, your primary care physician would need to refer you and your medical group or health plan would need to authorize all services provided at Stanford Health Care or by Stanford Health Care physicians.
Blue Shield Trio HMO
Stanford Health Care is in-network for hospital services. Your assigned medical group (John Muir, Hill Physicians, Sequoia Physicians, SCCIPA, or PMG- Santa Cruz) must refer and authorize all services provided by Stanford Health Care specialists. You would not be able to select a Stanford Health Care physician as your primary care physician.
Kaiser Permanente HMO
Kaiser HMO members must obtain a referral from their Kaiser primary care or specialist physician and an authorization from their health plan for any services to be covered and considered in-network here at Stanford Health Care. You would not be able to select a Stanford Health Care physician as your primary care physician.
Health Net PPO
Stanford Health Care is in-network for all hospital and physician services. This includes specialist and primary care physician services.

*This plan is not available on the Covered California exchange. You would need to purchase this plan with the assistance of a licensed insurance broker, or through Health Net directly.
The Health Net PPO, not to be confused with the EnhancedCare PPO offered through Covered California, is the only plan that will give plan members access to both the Stanford doctors and hospital. These plans are only sold off-exchange or directly from Health Net. Plan enrollment is limited to certain regions and counties within California.
Region 2: Marin, Napa, Solano and Sonoma Counties
Region 4: San Francisco County
Region 5: Contra Costa County
Region 7: Santa Clara County
Region 8: San Mateo County
Region 9: Santa Cruz County
Region 10: Merced, San Joaquin, Stanislaus, and Tulare Counties
Region 14: Kern County, partial coverage
Region 15: Los Angeles County partial coverage zip codes starting with 906-912, 915, 917, 918, 935. Los Angeles County is broken up into 2 regions. Region 15 is generally the eastern half of the county. Region 16 is the western half and Health Net PPO is not offered in Region 16.
Region 17: Riverside and San Bernardino Counties, partial coverage in each.
Region 18: Orange County
Region 19 San Diego County
Always check the provider search tool on the Health Net website to make sure the doctor is in-network with the Health Net PPO. The Health Net PPO plans will generally have rates that are 10% to 15% higher than some of their other plans in the individual and family market. If you have a family, you may want to consider enrolling only that family member in the Health Net PPO plan that needs Stanford or some of the other providers they have as in-network. The other family members could enroll in less expensive health plans.
While there is no medical underwriting for the Health Net PPO plan, you will need to provide proof of California residency. The residency must align with one of the regions that the plan is offered in. In addition, Health Net will generally not accept any third party premium payments. Either the policy holder or an immediate family member, such as in the case of a child only policy, must pay for the health plan. Carefully read the Evidence of Coverage document for all terms, conditions, and exclusions.
---