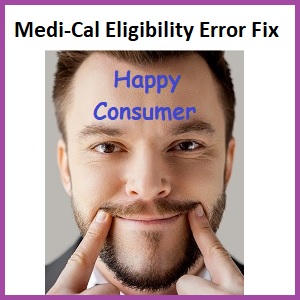 Covered California has announced a modification to their online application to allow agents and consumers to fix errors that result in a Med-Cal eligibility determination. This is a much welcome change. This will save agents and consumers hours of frustration dealing with their county Medi-Cal office to modify simple mistakes that resulted in Medi-Cal eligibility.
Covered California is to be praised for having relatively instantaneous eligibility results after an online application is submitted. However, the CalHEERS system is so efficiently designed that an eligibility determination of Med-Cal was quickly forwarded to the consumer's respective county. Once the application was sent to Medi-Cal and into the Statewide Automated Welfare System (SAWS) an immediate Soft-Pause was put on the Covered California account and no changes could be reported that would address the Medi-Cal eligibility.
Covered California has developed a reprieve from immediate reporting to SAWS in the event of an error on the application that triggers Medi-Cal eligibility. The one-day delay in reporting the eligibility results to Medi-Cal is outlined in the CalHEERS 19.7 release scheduled to be implement on July 22, 2019.
If every application were perfect, then the immediate distribution to the county Medi-Cal system would make sense. But the Covered California application, even with all the improvement over the last five years, is complicated. One wrong date entered into the income section could make a whole family eligible for Medi-Cal, when in reality, they earn too much income.
Medi-Cal Eligibility Correction on Same Day for New Members
From Covered California 19.7 Release Notes: Currently, when Certified Enrollers get an eligibility result for Medi-Cal, the results are relayed to Medi-Cal in real time. If the eligibility determination is incorrect because of human error such as inputting the wrong income, it may take a significant amount of effort to correct the error. The incorrect determination may cause extra work for the county eligibility worker (CEW) and will delay the correct assistance for the consumer. Moving forward with the 19.7 release, eligibility results submitted between 6 a.m. – 8 p.m. will be held, and only the last result of the day will be sent to the Medi-Cal system, SAWS. Corrections can only be made the same day the eligibility is determined.
Example: If an application is submitted and a consumer is incorrectly determined to be Medi-Cal eligible because an incorrect income was entered, the application can be modified that same day to correct the consumer's income and redetermine their Medi-Cal eligibility. CalHEERS will not send the final eligibility determination until after 8 p.m.
This functionality will only apply to the day the eligibility is determined.
This functionality only applies to newly added members, either through a new household application or a Report A Change – Add a member.
Eligibility results completed between 6am-8pm will be held and sent after 8 pm.
Eligibility results outside those hours will be sent immediately.
This functionally cannot be used for those who were mixed household before the new member was added.
If an error is found in an application, but it is after the eligibility determination date, the consumer should be referred to the county. Corrections cannot be made by Certified Enrollers.
Registered Domestic Partners
Covered California will also be adding a pop-up window for additional information for households applying as Registered Domestic Partners.
Registered Domestic Partner Pop Up: If a consumer is indicated as a Registered Domestic Partner, a Please Review Your Household popup displays on the Who Is the Primary Tax Filer for Your Household page. The pop up reminds the Certified Enroller or consumer that if one or more household members are in a Registered Domestic Partnership, they need to meet the following criteria:
Both partners must be on the application
Both partners must choose, "Registered Domestic Partnership" as their marital status
Both partners must choose "Domestic Partner" as their relationship to their partner
Other updates to the Covered California online application include
New income group for scholarship, awards, and grants reported by the consumer
Ability to accept the new alphanumeric I-94 from Department of Homeland Security
Changes to the navigation of the Report a Change functionality
Enhancements to the Secure Mailbox application
Medi-Cal eligibility error delayed reporting, domestic partnerships, income updates.
Review the YouTube Video of some of the changes.
California Healthcare Eligibility, Enrollment, and Retention System (CalHEERS): CalHEERS provides a consumer-oriented online portal (CoveredCA.com) and eligibility determination system for DHCS programs, including Medi-Cal, and Covered California. CalHEERS interfaces with the SAWS for Modified Adjusted Gross Income (MAGI) Medi-Cal eligibility, enrollment and reporting. CalHEERS also interfaces with several other state and federal systems, including the DHCS MEDS and the federal hub for income and other eligibility verification. 
Statewide Automated Welfare System: SAWS is comprised of two county subsystems (CalACES and CalWIN) used by staff at county social service agencies to administer Medi-Cal and other social services programs. The SAWS have interfaces with both CalHEERS and MEDS. The CalWIN migration to a modified CalACES technical platform, scheduled to begin in 2023, will result in a new single system called CalSAWS.
---