The federal poverty levels (FPL) have been released for 2023 and the Medi-Cal income eligibility for a single adult increased approximately 6.70 percent. This means a single adult can earn $113 more per month in 2023 and maintain their MAGI Med-Cal eligibility. Alternatively, low-income adults in Covered California may now be eligible for no-cost Medi-Cal coverage.
Medi-Cal 2023 Monthly Income Eligibility Increase
In 2022, a single adult earning $1,564 or less per month (138% FPL) was eligible for Modified Adjusted Gross Income (MAGI) Medi-Cal. The 2023 FPL income levels increases approximately 6.70 percent. This means that a single adult can qualify for MAGI Medi-Cal in 2023 with a monthly income of $1,677. For 2 adults, the household income can go as high as $2,269 per month and still maintain Medi-Cal eligibility.
Translated into an annual amount, a single adult can maintain MAGI Medi-Cal eligibility an earn $20,121. The annual income amount for 2 adults has risen to $27,214.

Higher Income Amounts To Qualify for Covered California Subsidies
Throughout most of California, if the household income is below 266 percent of the FPL, dependents 18 years old and younger are eligible for MAGI Medi-Cal. For a household of 4 (two adults and two children) the monthly household must be less than $6,650 for the dependents to be eligible for Medi-Cal. On an annual basis, for the same household of 4, the annual income must be less than $79,800. The counties of Santa Clara, San Mateo, and San Francisco use a higher FPL percentage (322%) for dependent Medi-Cal eligibility in the County Children's Health Initiative Program (C-CHIP.)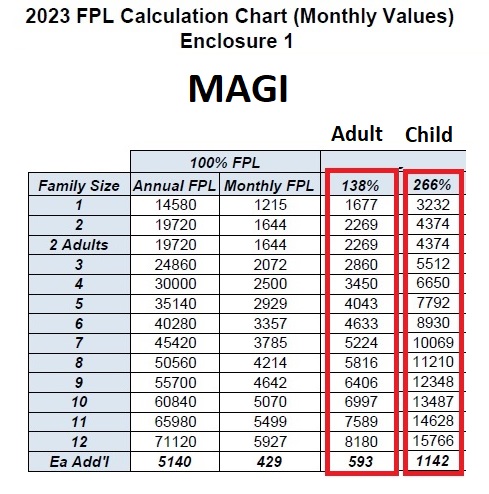 The various percentage columns across the FPL income table represent the 22 different categories of Medi-Cal eligibility for different aid groups. For individuals and families who apply through Covered California, they must generally focus on 138% FPL and 266% FPL. Adults are eligible for MAGI Medi-Cal if the monthly income for the household size is 138 percent or less of the FPL. Children will be eligible for Medi-Cal if the monthly income is less than 266 percent.
For example, a household of 4 (two adults, two children) has a monthly income that is 250 percent of the FPL, $6,250. The adults would be offered a private plan with the subsidies through Covered California while the children would be determined Medi-Cal eligible through the Covered California system.
---
The Department of Health Care Services' All County Welfare Directors letter No. 22-03 notes the following for Covered California Advance Premium Tax Credit (APTC) subsidy consumers.
APTC eligible individuals, who are redetermined eligible for Medi-Cal using the 2023 FPL figures, may be eligible for retroactive Medi-Cal. The county shall only retroactively change eligibility for APTC individuals who did not enroll in a Qualified Health Plan (QHP), did not pay a premium, or who did enroll in a QHP and pay a premium, but have Medi-Cal covered medical or dental expenses that were not covered by their QHP during the retroactive period.
APTC eligible individuals, described above, may be eligible for retroactive Medi-Cal out-of-pocket expense reimbursements (Conlan). Please see MEDIL I 07-02 for additional information about the Conlan process.
Note: The Centers for Medicare and Medicaid Services has decided that there will be no reimbursement for premiums paid to Covered California QHPs. The notice sent by DHCS will state that no Covered California QHP premium reimbursements will be available. Please see ACWDL 16-08 for instructions on determining retroactive Medi-Cal coverage when an individual is transitioning from Covered California coverage.
---
If your income is below the Medi-Cal FPL eligibility threshold in 2023, you can contact your county social services offices as the 2023 income dollar amounts are effective for MAGI Medi-Cal January 1, 2023. Covered California usually implements the higher FPL dollar amounts in March. After the new numbers are in the system, simply submitting a change to the Covered California application will trigger Medi-Cal eligibility if the existing income estimate is with the Medi-Cal parameters.